We are so lucky to have featured not just one but two award winning chefs/producers in our book! Which is selling pretty fast! The funniest one is a great cafe in Mullumbimby (facebook.com/rockandrollcafemullumbimby) who upon ordering 4 books, called me within the hour to please please have 10 more as they had already sold the previous 4. Have a coffee there and buy the book, the guys are amazing. And whilst you are there try there Womlette, simply Devine!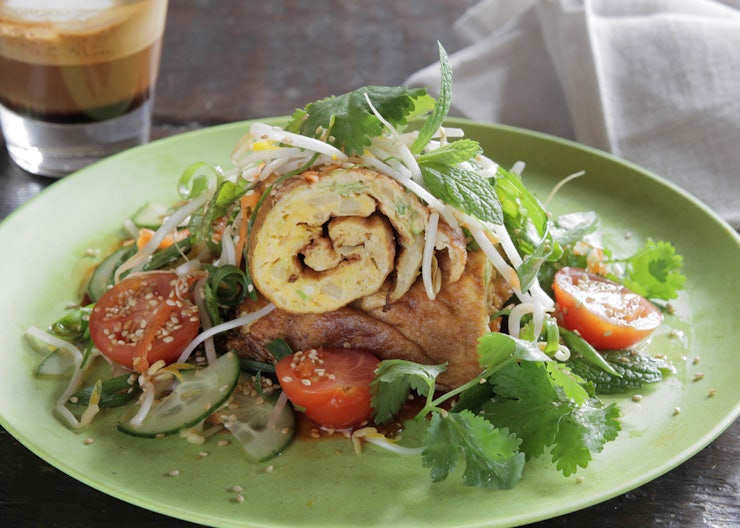 Rock and roll cafe Mullumbimby's Womlette
Massive congratulions to Peter Nicholsons for his award winning beetroot vinegar!
here is a recipe from the book for a surprisingly easy entertainer:


Avocado with parmesan and cashew crust.
with nicholson's fine food beetroot finishing vinegar
Select a large avocado and cut in half. Carefully peel away the outer skin, leaving the inside intact.
chop cashew nuts finely and mix with freshly grated parmesan. Sprinkle the nut/cheese mix on a plate and press the cut side of the avocado firmly into the mix.
Turn over to check the surface is covered evenly and if not, repeat the process. With the avocado cut-side down, use a knife to slice a small flat surface at the top of the rounded side. This will help the avocado to sit nicely on a plate.
Gently turn the avocado over and position on a serving plate. Toss the rocket leaves in 10ml of beetroot vinegar then pile into the hollow of the avocado. Sprinkle with the Lightly spiced beetroot Seasoning sprinkle to finish of the dish.
Serve with a cool crisp glass of white wine!
Here is the link to the products : www.nicholsonfinefoods.com.au