The Byron Bay Cook book is rapidly selling and we are finding more and more fabulous stores that sell our wonderful book. This week I was so pleased to meet the wonderful Clare and Tony at Waxjambu emporium. If you are looking for a hard cover book, this is the place to go. You will find the most amazing Christmas decorations and gifts too!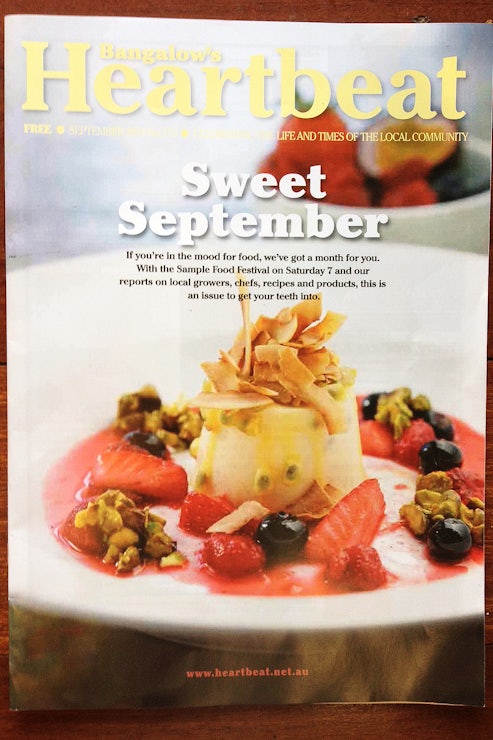 And Bangalow's Heartbeat magazine featured an article of Food and photography, highlighting the Byron Bay region, the food, some amazing photography and the cook book.
Below is Helen Johnston's New horizons article in the November issue of Heartbeat.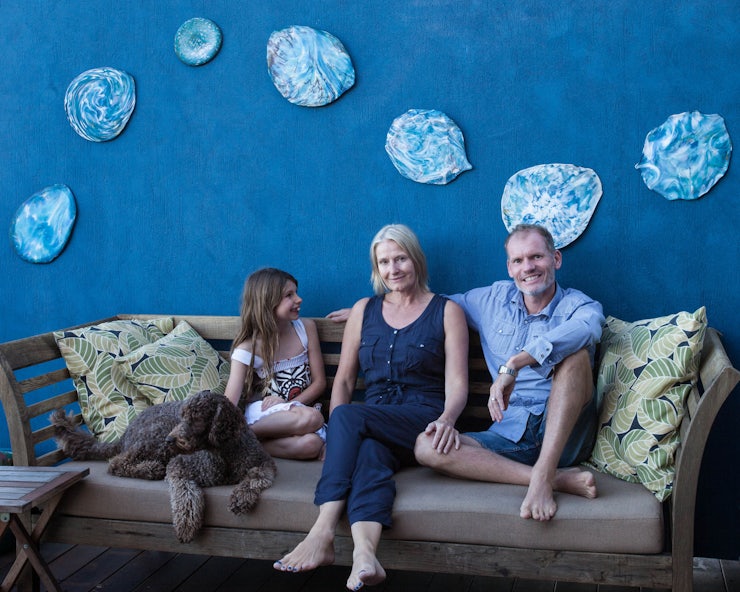 Nelly le Comte and family in Byron Bay
Nelly Le Comte originally from the Netherlands and Mark Greenslade born in the UK came to Australia in 1997 and travelled extensively as do so many young people from Europe. On their first visit they weren't impressed with Byron Bay as it was cold and miserable and they wondered what all the fuss was about. They settled in Palm Cove, north of Cairns for two years before moving to Sydney. Nelly has a degree in Fine Arts with photography major and Mark, an economics degree which led him to marketing. He works from home in the Animal Health Care Industry. Nelly is a freelance photographer and does a wide range of work but her special love is food photography.
Mark says it was his suggestion that they move to this north-eastern region of NSW as they were getting weary of inflated Sydney prices and the "keeping up with the Jones" atmosphere. Nelly was initially reluctant to leave her beloved Avalon on the northern beaches. They decided on a six week trial period during which she home schooled their 9 year old daughter Olivia.
It was during this relatively short period that they attended the Sample Food Festival in Bangalow in 2012 and this was a defining moment. Nelly realized this part of the world is a fertile food bowl, renowned for the freshness and quality of its produce and this is where she felt she would love to live and work.
She and Remy Tancred combined this year to produce a cook book "Byron Bay-a food journey through the region" and it was launched at this year's food festival in Bangalow.
One of her photos was featured on the cover of the September issue of Heartbeat.
Currently the family are renting, but have their home in Avalon up for sale and they are actively looking to purchase in the area and settling here permanently. Mark feels this is the place you can relax and be who you are. Nelly sees endless possibilities of showcasing the quality and diversity of the bountiful food grown, produced and cooked in the district.. Olivia has settled into school and has taken up horse riding in Binna Burra.
Getting to know the area has been accelerated by the personal contacts made with growers, market store holders, chefs, and food lovers in putting the book together. An unexpected but pleasant surprise is that they are always seated at good tables when they dine out and are often treated to new dishes to taste.
Mark and Nelly have joined a couple of sporting groups and they find people very friendly and welcoming. An added bonus is that a close friend from their Avalon days Christina de Water has moved here too.