Only a year and a half after launching the Byron Bay Cookbook and we are running out of copies, so if you haven't got one yet...... this is the time to get your hands on the book that let's you dine like a local, whether you'are visiting one of the restaurants featured or cooking a delicious meal at home with produce found at the fresh farmers market or from our local food producers.
Re-printing the book will allow us to feature some of the exciting new restaurants that have opened up in the region, and also give really special food places that missed out last time to come and join us on the food journey through the region.
Nelly le Comte our resident food-photographer has already started visiting some of our talented chefs and we will be going fairly soon into the lay-out of the book.
We are so pleased to have the award winning Beach Cafe in with an amazing seared mahi-mahi recipe. The venue is so amazingly located looking over Clarks Beach toward the Pass, and on a the sunny afternoon Nelly was shooting the light and the view pretty much sums up the reason many of us come to Byron Bay in the first place.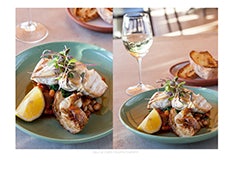 Two images that are both showin the mahi-mahi dish in a great way we would love any input into whether you would love to see the image on the left or the right published in the next edition of the Byron bay Cookbook.
Please contact us any time if you would love to be part of the journey and have your business featured in the Byron bay Cookbook.